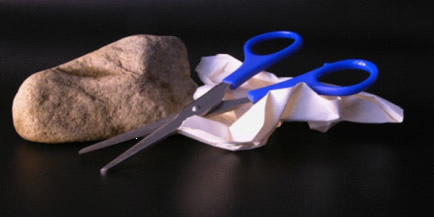 What a game! We have all played it at one time or another, right? It is a classic way to determine so many things. Who goes first in picking kickball teams at school, who is chosen to read aloud in class, and who has to do the dishes after dinner. The rules are simple, on the count of three each person puts out his/her hand in the shape of the desired item Rock = closed fist, Paper = hand with palm down fingers extended, Scissors = two fingers imitating a cutting motion. Winners are determined by Rock dulls Scissors, Paper covers Rock and Scissors cuts Paper.
Have you ever looked at the relationship to these items in a different light? How about in a way to drive to your goals and visualize the importance of your focus and your actions?
Here is a simple idea where Rock, Paper, and Scissors can keep us on track.
The Rock is a sign of strength. It can hold something in place and keep it from moving in an unintended direction. Rocks are used as foundations. THINK about the Pyramids, the Great Wall of China and Stonehenge as examples. Certainly, we must be strong and focused on the journey to reach new goals.
The Paper is where we can put our thoughts, express ourselves and create pictures or a thousand words. Paper is where the first notation of modern music was captured, the first maps of our worlds created and the most beautiful words assembled through prose and poems. As we seek to improve ourselves by setting our sites on higher levels of performance or changes we wish to see on our lives. Writing our goals on paper has always been a recommended way to make them real for ourselves.
The Scissors can symbolize a tool or the act of cutting out aspects of our life that are preventing us from getting on our desired path. Negative thinking, choices inconsistent with our goals, and anything we need to "cut loose" that is holding us back. Scissors can also trim the unnecessary or distracting and leave what is important.
So this simple game can help us focus on three keys for attacking and pursing our goals in whatever areas we choose. Rock, use it as your strength, Paper is your canvas to state your goals in clear and vibrant messages of words or pictures, and Scissors makes sure you keep your environment (physical and mental) lean, trim and focused on only what is required while leaving the unnecessary or distracting influences behind.
Click Here To Pre-order Your Copy of "Above The Chatter, Our Words Matter" today